Over the last couple of weeks I've been using entrecard to discover blogs that fall under my categories of interest. Coincidentally, I found Camera Critters through using ecard!
Anyway, I've come across a number of posts written by ec users, describing the drop and run user – a browser (generous title for these folk) who only drop by long enough to leave you their card, and collect their ec credit! Entrecard has a 300 drops per day maximum placed on the system; my average number of drops (when I'm actively online) is 50 per day!!
Whilst thinking about the 'drop and run' blogger, my mind went to a little friend who I snapped a couple of photos of when on a winter holiday. After going to the effort to place something out there of interest and value to my potential friend, the response was lacklustre – a quick drop and run attitude! I guess that is the only way you can bank 300 drops in one 24hr session!!
Having said that, there must be something that compelled that blogger from dropping by in the first place – an interesting ec card for example – and anything that increases our ranks in the listings is a good thing in my book. If you're an ec dropper reading this, I invite you to leave a comment…. do you drop and run like this bird did?
This was my pick for "Camera Critters"…see how my little friend kept one eye on what I was up to 😉


DROP & RUN….
Click on the images to view them larger.



By Manz
To view thumbnails of all of my Camera Critter posts, visit the GritFX website.
---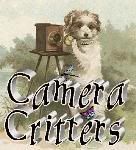 "Drop and Run…"
is this week's
"Camera Critters"
post. If you want to participate, click on the "Camera Critters" image.