I took this image after the massive floods that we had during Australia's long weekend in June 2007. The lake edge is where I once rode my bike as a youngster. On an ordinary day, the shoreline would usually be approximately 50 feet past the tree line, and where you see the birds playing is where the bike track is.
The mood in the area was sombre and residents were shocked by what they saw. One small thing that broke that mood for me, was watching these birds have the time of their lives!
I took a few photos that afternoon, and this was my pick for "Camera Critters"…. the break in the water surface is partly the reason for the selection.
Click on the image to view it larger.



By Manz
To view thumbnails of all of my Camera Critter posts, visit the GritFX website.
---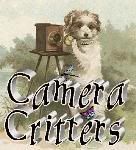 "Floods are fun for some…"
is this week's
"Camera Critters"
post. If you want to participate, click on the "Camera Critters" image.