I know it's a little early…
However, in a few days a number of people across the globe with Irish heritage will be donning green in the name of St. Patricks Day. So for all of you, here is a little piece of green from Down Under!
These tiny frogs were photographed on Dave's parents farm, 500km north of Sydney. A number of them showed their little faces after a nice rainfall. They were tiny, around the size of your thumb. I only had a standard lens with me, and this was pre-digital. I imagine the results would be a great deal better if I were to shoot them today, armed with my digital SLR. I still think that they are good enough to share in celebration of St. Pats. Day.
Before I leave you, I'd like to give a "HAPPY BIRTHDAY!" shout out to one of our loyal readers (Shea) to pass onto his daughter – whose birthday is on St Patricks Day!!
Plus here's a couple of extra frog pictures…



By Manz
To view thumbnails of all of my Camera Critter posts, visit the GritFX website.
---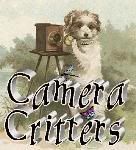 "Happy St. Patricks Day!"
is this week's
"Camera Critters"
post. If you want to participate, click on the "Camera Critters" image.