For those new to the GritBlog, you may not know about Jonesy. He is my eldest of 2 children, and was adopted approximately 5 years ago. I've heard many animal lovers express that "he chose us to be his family", and I have to agree with this sentiment. He was never in a shelter, rather he made friends with another cat that was living in our apartment building – his first steps to being socialised. The moment I saw him, I fell in love and wanted to make sure that he had a decent chance at life.
We got him "fixed"… bye, bye little gonads… and then attempted to find him a home. One plan was to leave him at my folks place while we were away on holidays over summer. This was done with a hope that he would bond with my folks and we would have succeeded in finding him a home. In retrospect, I think he was wise to that, as he would only come back to be fed. Cloaked in darkness, he would creep up to the deck for food (so I was told); that is until we (myself & Dave) arrived to pick him up!
You may be asking, "what does this have to do with this week's camera critters post?" Well, this week I wanted to share some "wild boy" images with you. There's a saying here in Australia "you can take the guy (or girl) out of the west, but you can't take the west out of the guy"… I feel that you could also say that "you can take the cat out of the wild, but you'll never remove the wild within him (or her)" – and these images are my proof.
With respect for all wildlife, I like to keep an eye on him when he's "playing" outside. In doing so, I'm now able to share these images.
At the top of this post is my pick for "Camera Critters"….I like how you can see his intense stare through the movement of the greenery.
Another shot of him keeping a close eye on the surrounding activity…


And a final photo where you can see his full cheeky face – he had his eye on a bird here also…



By Manz
To view thumbnails of all of my Camera Critter posts, visit the GritFX website.
---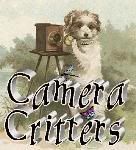 "Jonesy's Wild Ways…"
is this week's
"Camera Critters"
post. If you want to participate, click on the "Camera Critters" image.