After another busy week, I didn't get to make the blogging rounds all that much… however, I was sent some posts regarding Facebook and the latest trick that they tried to pull!
You probably have all read about it yourself, but for those who don't know what I'm refering to… well, Facebook changed their terms of service (TOS) without notifying any of it's existing users. This presented a number of issues that any user – or potential user – should and did question. The first of which, in order to change the terms, they are required to contact all existing users and notify them of the change. A user must then agree to the new TOS. They failed to do this.
The second and extremely alarming issue in my opinion, was that the new TOS gave ownership of all your uploaded information over to Facebook… FOREVER!! The original terms outlined that you could terminate your account and that the license would automatically expire – with an acknowledgement that the "Company may retain archived copies of your User Content." This section of the TOS was deleted.
The craziest part, once again in my opinion, was that they would have a license to "use your name, likeness and image for any purpose, including commercial or advertising". How is that right!? I know that to publish a photograph taken at an event for example, you need written permission from all citizens who are visible in the shot. Without that, you can not use the image. So, tell me Facebook, how could you assume to think that you have this right!? While I accept that anything I upload to the internet can turn up in other places, I could not accept that a corporation worth billions could use my image in this way!
The issue has since been resolved, firstly with the founder of Facebook Mark Zuckerberg making statements that it was all innocent and the TOS was only amended to protect them; followed by a return to the old TOS.
With that on my mind this week, I was considering changing my Facebook profile picture to one of my cats. Whist I was still reluctant to use an image I thought was "valuable" and give Facebook a chance to use it for their own gain, I was thinking of this one of Jonesy – which is my Camera Critter post for the week. With the old TOS now in place, I know the situation is a little different, but I'm still considering taking my image off my Facebook profile.
What do you think? Do you think this is the "perfect profile"? And are you on Facebook – if so, I'd love to hear what you use as your profile photo… your gorgeous mug? a cute critter?
By Manz
For anyone interested in reading more about Facebook, here are some links to posts that I read:
1. Facebook's New Terms Of Service: "We Can Do Anything We Want With Your Content. Forever." by By Chris Walters – Feb 15 2009
2. With friends like these … by Tom Hodgkinson – Feb 29 2008.
The second post is a great article regarding the sociological experiment that is Facebook.
To view thumbnails of all of my Camera Critter posts, visit the GritFX website.
---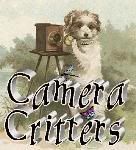 "Perfect Profile…"
is this week's
"Camera Critters"
post. If you want to participate, click on the "Camera Critters" image.